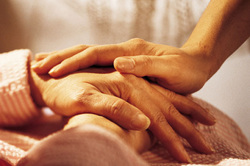 Welcome! Home Companion Solutions provides non-medical companions in the Chicago area. We are woman owned and Registered Nurse owned and operated and are dedicated to helping the people in our community live independently in their homes. We also provide respite care for caregivers and help around the home for new parents. Our mission is to provide high quality, client-centered and affordable Home Care services to our clients to assist them to lead dignified and independent lives in the comfort and safety of their own homes. Individual needs are carefully assessed, understood and met through the selective assignment of qualified, trustworthy and compassionate personnel. We are licensed by the
Illinois Department of Public Health
as a Home Services Agency and our company and our employees are licensed, bonded and insured. We are a proud member of the
Home Care Association of America
. Initial assessments are always free and we are available 24 hours a day and 365 days a year.
We are a local, family owned and operated business that is not restricted by franchise rules. This allows us the opportunity to customize our services in unique ways to meet the exact needs of our clients. Our parent company,
The Nurse Agency
, has been in business in the Beverly neighborhood of Chicago as a supplemental staffing agency for healthcare providers since 2001. We are proud to be certified by both Cook County and the State of Illinois as a a Woman Business Enterprise.
Please see our
Care Options
page for information regarding the services we provide and please feel free to contact us for further information via our
Contact
page, email at Penny@homecompanionsolutions.com or by calling (773) 779-8889.
---

Are you a veteran or a spouse of a veteran? You may qualify for the
Aid and Attendance Pension benefit
. Click
here
for more information. If you think you might be eligible,
complete this form
and we will send it to
Veterans Care Coordination
for review.
---
Home Companion Solutions was featured in The Beverly Review! Please click here to read the article.
10829 S. Western Avenue, Suite B, Chicago, IL 60643 Phone: (773) 779-8889 FAX: (773) 779-8866
Email: info@homecompanionsolutions.com